Jay Kapp Wins 2011 Dunwoody Rising Star Award
Kapp Koncepts president, Jay Kapp was recognized at the Dunwoody Business Expo yesterday (April 21, 2011) by the Dunwoody Chamber of Commerce with the "Rising Star Award." The award is given to a business owner under the age of 40 who exemplifies leadership and community involvement through the Dunwoody Chamber.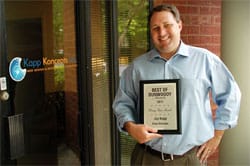 Amy Otto, Co-Chairperson of Dunwoody Business Expo 2011, said "I was thrilled with the results of the Best of Dunwoody Awards. There were a bunch of nominations for the Rising Star Award and Jay Kapp really stood out. His community involvement is amazing and the testimonials from his clients who nominated him were touching and heartfelt."
Jay, a resident of Dunwoody, and Kapp Koncepts have been active with numerous Dunwoody organizations, including Dunwoody Homeowners Association, Citizens for Dunwoody, Dunwoody Preservation Trust, and Dunwoody Soap Box Derby.
Otto went on to say, "Jay and Kapp Koncepts are a valuable asset to the Dunwoody Community. Way to go, Jay, are you sure you are under 40? You are wise beyond your years!"
In addition to Jay's award, the Chamber also gave Best of Dunwoody Awards for:
Good Eats Award: Alison's Restaurant (honorable mention: Cafe Sababa)
Growing Green Award: Fabricare Center
Small Business of the Year Award: Reising Orthodontics
People's Choice Award: Stage Door Players (honorable mention: Dentistry with a Difference)
The Dunwoody Business Expo and Awards Luncheon was held at the Crowne Plaza Hotel Atlanta Perimeter at Ravinia.